Queen bestows honour on Chief of the Defence Staff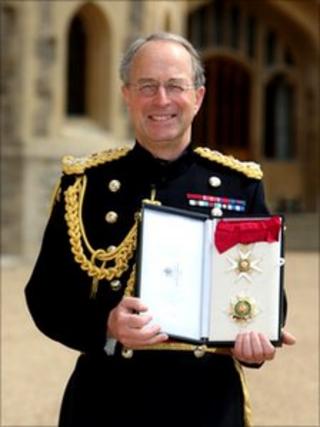 Gen Sir David Richards, Chief of the Defence Staff, has been made a Knight Grand Cross of the Order of the Bath by the Queen.
Sir David said at the Windsor Castle investiture that the award was "an eloquent testimony" to the work of the armed forces he leads.
Mark and Mo Constantine, the couple behind cosmetics firm Lush, became OBEs for services to the beauty industry.
Ex-Lloyds TSB boss Sir Peter Ellwood was knighted for services to banking.
Sir David said after receiving his award: "Like most people, I didn't join the armed forces thinking I would receive anything like this, on such a special day.
"It's a pleasure for my family as they have been through a lot in my 40 years in the Army.
"But I think most of all, it is an honour on behalf of the armed forces that I have the privilege of leading. This is, to a large degree, an eloquent testimony of their efforts."
Referring to the conversation he had with the Queen when she awarded him the honour, the father-of-two from Wiltshire added: "She said, 'How are you getting on in this very difficult job?'.
"I said that I'm surviving - and that my morale is marvellously high."
Peter Walker, former president of Glamorgan Cricket Club, exchanged a few words with the Queen after being made an MBE.
'Besotted by cricket'
He said: "She said 'You're a cricketer, are you?'. I told her I had sat next to Prince Philip at Lord's once and he was very knowledgeable.
"She said he was besotted by cricket, very interested in it."
Mo Constantine of Lush said: "The Queen was very interested in the inventing side of what I do.
"My view of the award from the beginning was that I would accept it on behalf of all the people who have worked so long and so hard for us."
Also honoured was National security adviser Sir Peter Ricketts, who was made a Knight Grand Cross of the Order of St Michael and St George.
Sara Thornton, Chief Constable of Thames Valley Police, the largest non-metropolitan force in England and Wales, became a CBE.
And Col Gerhard Wheeler, who was deputy commander of Task Force Helmand, was made a CBE for services in Afghanistan.