Newspaper review: AV rejection examined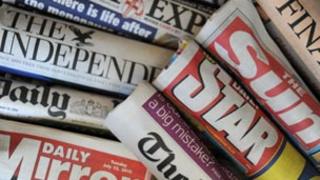 The fallout from local elections and the rejection of the alternative vote system dominates Saturday's papers.
The Independent says the Liberal Democrats were the "big losers."
And it argues that, after this, the pact with the Conservatives will "never be the same again."
The Financial Times has no doubt that "the backslapping bonhomie" is over.
But it advises the Lib Dems to make sure the coalition remains effective.
Some see problems ahead for Labour leader Ed Miliband after local election results and the rejection of AV.
The Daily Express describes him as "a loser" and the Times says Labour's defeat in Scotland was a catastrophe, blaming Mr Miliband for "mediocrity."
The Guardian says Labour can conduct all the policy reviews it likes but "if the British public don't warm to Ed Miliband, it will all be in vain".
Even the staunchly pro-Labour Daily Mirror says "he must do better."
Several papers highlight what the Independent calls the "questions and pain" that go on after the inquests into the deaths of the 52 people murdered by terrorists in London.
The Mirror says some bereaved relatives feel they were "failed by MI5".
However, the Sun tells its readers that they should not lose sight of the fact that the 2005 bombings "could not have been stopped".
And the paper says one man was responsible: Osama Bin Laden.
Manchester United manager Sir Alex Ferguson has warned Chelsea, "we're going to destroy you and win the title", reports the Daily Star.
Sir Alex's team will host Chelsea at Old Trafford in Sunday's potential Premier league title decider.
The Daily Telegraph says "history beckons Ferguson and United" as the club chases its 19th league title.
And the Daily Mail reports that Sir Alex fears a bad refereeing decision could be pivotal in the title race.