Expected heavy rain set to bring UK wildfire relief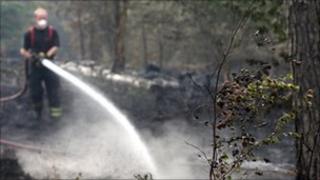 Overnight thunderstorms look set to help efforts to control wildfires still raging in parts of the UK.
Blazes continue to burn in Berkshire and Lancashire, while fires caused by the recent hot spell have destroyed acres of land in Northern Ireland and parts of the Highlands.
BBC weather forecaster Nick Miller said heavy thundery rain would spread north and east across the UK overnight.
Fire crews said Saturday's wet weather had little effect on burning moorlands.
A Royal Berkshire Fire and Rescue Service spokeswoman said rain that fell over Swinley Forest, near Bracknell, made little difference to the fires.
Crews have been battling round-the-clock in their efforts to extinguish them, with 25 fire engines still at the scene.
Police investigating the blaze have bailed two 14-year-old youths arrested on suspicion of arson.
The hottest April on record, which saw only a fifth of the expected rainfall in England and Wales, has caused vast areas of parched, tinder-dry land to go up in flames across the UK over the past week.
Seven appliances from Greater Manchester Fire and Rescue Service were sent to tackle an ongoing blaze at Turton on Saturday, while two teenagers were arrested on suspicion of arson after a large moorland fire near Halifax.
The wet weather also did little to temper the burning moorlands in Lancashire, where fires have been raging over a six square-mile area at Belmont for more than a week.
Fire crews in Northern Ireland have fought more than 1,000 gorse and forestry fires over the past four days.
Around 200 personnel, including soldiers, have battled 255 fires in 31 locations since Tuesday, according to deputy chief fire officer Chris Kerr.
In the Highlands, wildfires broke out in Inverkirkaig, Lochailort and in Newton of Ardtoe in Salen.
The National Trust for Scotland said at least £100,000 of damage had been caused to its forest regeneration project in Torridon and Kintail.
Helicopters have been used to drop water in the worst-affected regions.