Newspaper review: Election aftermath and Lib Dem defeat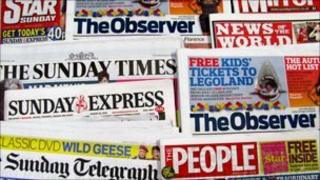 The papers dwell on the aftermath of the elections - and in particular the heavy defeats suffered by the Lib Dems.
The Observer says Nick Clegg will continue to get the blame for unpopular decisions unless he can prove the Lib Dems can restrain the Conservatives.
But the Sunday Telegraph says the PM has no need to mollify a coalition partner who has nowhere to go.
The Sunday Times thinks the party would face annihilation if a general election were to be held in the near future.
Sights on Scotland
The Independent reports Alex Salmond has won his first concession from David Cameron after the SNP's triumph in the Holyrood elections.
It says Westminster has agreed to the first minister's demands to borrow at least £300m a year from the Treasury to help Scotland's economic recovery.
The Mail on Sunday says Gordon Brown is poised to lead the fight to stop Scotland breaking away from the UK.
Labour sources are quoted as saying he is "more than a match" for Mr Salmond.
Bin Laden
The newly-released video footage of Osama Bin Laden also fills frontpages.
A "View to a Kill" says the News of the World, while the Sunday Mirror says "you've bin framed" as it points out Bin Laden is seen making embarrassing mistakes while rehearsing his lines.
The Telegraph says to the uninformed eye he could be a pensioner sitting out a cold winter with daytime TV.
While the Sunday Express notes there was little evidence of his fortune in the squalor of his last hiding place.
Ballasteros tributes
Energy Secretary Chris Huhne makes the headlines in the Mail and the Sunday Times.
Both report allegations he asked someone else to take responsibility for a speeding offence to avoid penalty points which would have led to a ban.
The Mail says Mr Huhne has repeatedly denied the claims dating back to 2003.
Meanwhile, all the papers pay tribute to Spanish golfer Seve Ballasteros, who died from cancer aged 54. The Sunday People calls him a "genius, talisman, idol, heart-throb and a legend".