'No wavering' on Libya says Defence Secretary Liam Fox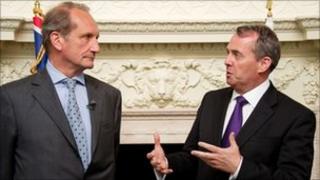 There must be no "wavering" in the global community's resolve to protect the Libyan people from Col Gaddafi, the defence secretary has said.
Liam Fox's comments followed talks in London with the French Defence Minister Gerard Longuet.
He denied the conflict had reached a military "stalemate".
RAF Typhoon and Tornado fighters have hit two multiple rocket-launchers attacking Misrata and a Libyan main battle tank near Brega in recent days.
Mr Fox's comments come as several hundred people are feared to have drowned off Libya, after a boat carrying some 600 refugees trying to reach Europe broke up at sea on Friday.
The UN's refugee agency said 16 bodies, including two babies, had been found.
The defence secretary said the mission to defend the population would continue "for as long as there is a threat" from the regime's forces.
"We have very clear responsibilities under the United Nations resolutions to protect the population of Libya, and we will protect them for as long as there is a threat to those people from their own regime," he said.
"It is very important that we give no sign of any wavering in our resolution."
Under the terms of United Nations Security Council resolution 1973, Nato-led forces are enforcing a no-fly zone over the country, as well as carrying out missions aimed at preventing Col Gaddafi's forces from attacking civilians.
Nato aircraft have flown more that 5,300 sorties since the no-fly zone was put in place in March.