London 2012: No Olympic ticket payments for a week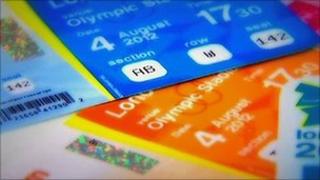 Olympic organisers say money will not be taken from successful 2012 ticket applicants' accounts for another week.
Applicants were originally told to make sure they had enough money in their accounts from 10 May to 10 June.
But London 2012 says people will not be billed until next Monday at the earliest while they carry out ballots for oversubscribed events.
About 1.8 million people applied for 20 million tickets, yet only 6.6 million tickets are available.
Applicants have already been advised they will not be told which tickets they have until the money has been collected. The latest date to hear is 24 June.
Last week, applicants were sent an e-mail reminding them to make sure there were sufficient funds in their account.
It warned that applications could be withdrawn if ticket costs could not be covered.
The opening and closing ceremonies were expected to be massively over-subscribed, as well as big athletics events, swimming nights, track cycling and some of the cheaper tickets.
Many people applied for several events, hoping to boost their chances of getting tickets.
Standard prices range from £20 to £2,012 - the top ticket for the opening ceremony - and oversubscribed events will be decided by a ballot.
Ticket allocation is completely random, so some unlucky applicants might end up without any, while others may be allocated all the tickets they applied for.
A Locog spokesman said if someone was allocated tickets to more than one event, the payment would be taken all at once.
There has been criticism of the prices, the ballot system and the fact that money is taken from accounts before applicants know which events they have secured.
People who end up with more tickets than they want will have the chance to sell them on early next year in an official ticket exchange.
EBay, the internet auction site, has said it will not allow the resale of Olympic tickets.
Any tickets unsold by organisers are expected to be made available in further ballots, along with the possibility of additional tickets for higher-profile events being released as venues are tested and capacities finalised.
A further two million tickets for the Paralympic Games go on sale on 9 September.
On Wednesday, the prices of Paralympic tickets will be announced by Olympic organisers, Locog.
Meanwhile, the Metropolitan Police's Operation Podium, which deals with Olympic-related fraud, says it is continuing to monitor the internet for ticket touts.
It is understood fewer than 10 websites have been identified so far as appearing to be illegally selling Games tickets.