Phone hacking: Prescott seeks judicial review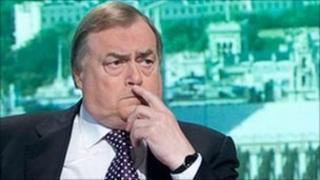 Four men who believe the News of the World hacked their phones have applied to the High Court again for a judicial review into the police inquiry.
The group including Lord Prescott and Labour MP Chris Bryant claim handling of the cases breached their rights.
In a separate High Court hearing, the paper's owners News Group said claims by actress Sienna Miller relating to phone hacking should be stopped.
It said it had admitted liability and had offered compensation.
Michael Silverleaf QC, for News Group, said the legal system did not exist "for people to vent their feelings in public".
He added that the offer of £100,000 was also "substantially" more than Ms Miller could win through the courts.
But Ms Miller's counsel said she wanted full disclosure from the newspaper so she can know the precise extent of the wrongdoing.
Lord Prescott, Mr Bryant, ex-Met deputy assistant commissioner Brian Paddick and journalist Brendan Montague want to take judicial proceedings against the Metropolitan Police Commissioner.
Their previous application was rejected in February.
Then Mr Justice Mitting ruled there was no arguable case that article eight of the European Convention on Human Rights imposed an obligation on the Met to notify the claimants in 2005/2006 that they might have been the victims of unlawful phone-hacking.
Victim notification
He also concluded it was not arguable the commissioner was under a duty to conduct an investigation into the possibility that mobile communications had been unlawfully intercepted.
At Thursday's proceedings before Mr Justice Foskett, Hugh Tomlinson QC said the latest application by the four concerned the "lawfulness" of the way the police dealt with the phone-hacking case in 2006 "when police officers became aware of what was going on".
He said they were seeking declarations in relation to claims that the police "failed to inform them they were victims", failed to respond adequately to their requests for information and failed to carry out an effective investigation at the time.
Contesting the applications, James Lewis QC, for the commissioner, argued that "these matters are effectively academic".
There was now a "comprehensive" investigation being carried out and what the claimants sought was "an impossible task for the court".
He said: "This court is not here to micro-manage the Metropolitan Police or to punish them for any inadequacies."
The Met Police are re-examining the phone-hacking case from 2006.
The judge reserved his decision until a later date.