Newspaper review: Papers focus on dossier claims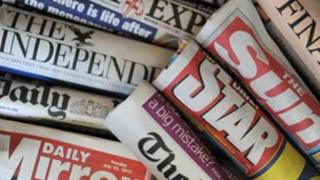 The Independent leads with claims by a former senior intelligence officer that pressure was applied to turn a dossier into justification for invading Iraq.
Ex-No 10 spokesman Alastair Campbell told the Chilcot inquiry last year that the dossier was "not the case for war".
The paper observes that if nothing else the inquiry has "brought out of the woodwork" a stream of officials anxious to distance themselves from the war.
The Guardian quotes Mr Campbell as saying he now had nothing to add.
Key evidence
Both the Sun and the Daily Mail lead with the news that Scotland Yard is to "join the hunt" for Madeleine McCann.
The Mail says British detectives will help to review key evidence after "four years of Portuguese blunders".
David Cameron is said to have ordered the intervention after a request from Kate and Gerry McCann.
The Daily Express says the parents are convinced that information gathered since the case was formally shelved in 2008 could provide a breakthrough.
'Damning' verdict
The Daily Telegraph says exam watchdog Ofqual is to address fears that GCSEs and A-Levels have become too easy.
The Telegraph says this will cover the annual rises in grades, difficulty of qualifications, range of courses and competition between exam boards.
There is much coverage of the seven-day Commons ban for David Laws for breaking Parliamentary rules on expenses.
The Sun calls it "damning", but says the former Chief Treasury Secretary could be back as a minister next year.
Bad fortune
It is Friday the 13th, and the number 13 may really be unlucky for some.
The Daily Telegraph has the findings of research for a property website suggesting that some home owners can put a price on that bad fortune.
The survey indicates that people living at number 13 sell their homes for an average of almost £4,000 less than neighbouring properties.
And it seems fear of the number could be behind more than a quarter of British streets not having a "13".