Photographer Tim Hetherington's funeral held in London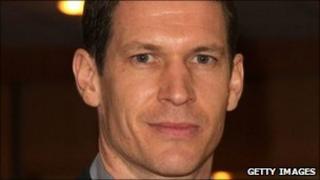 The mother of award-winning photographer Tim Hetherington killed in Libya read one of his favourite poems to hundreds of mourners at his funeral.
The Oscar-nominated film-maker had learnt William Wordsworth's "Daffodils" as a boy, his mother Judith said.
She urged those at the Church of the Immaculate Conception in central London to "remember like Timothy to dance with life and dance with the daffodils".
Merseyside-born Mr Hetherington, 40, was killed in Misrata on 20 April.
He had been in the city capturing images of fighting between Colonel Gaddafi's forces and Libyan rebels when he was caught up in a mortar attack.
His American colleague Chris Hondros, 41, was also killed.
Cornish photographer Guy Martin was seriously injured and is recovering in hospital.
Mrs Hetherington told more than 500 mourners that her son and his girlfriend had been out walking when she asked what some flowers were called.
'Exposed horrors'
"He walked into the daffodils, and said 'I wandered lonely as a cloud, by William Wordsworth'," she said.
Her son had then recited the whole poem, she said, and read it to the congregation.
She added: "Timothy said, 'my mother taught me that poem when I was about seven years old', and I did.
"Let us now go forward in love, hope, forgiveness, compassion, courage and hope, and remember like Timothy to dance with life and dance with the daffodils."
Father James Campbell, delivering a homily at the Requiem Mass, said Mr Hetherington was "an above-average example of his generation".
"His mission in life was to improve himself, to climb the ladder of his career, and expose the horrors of what human beings do to one another, and the devastating effects on men, women and children of war," he said.
"People who engage in these dangerous missions can end up succeeding, but also, as we see today, can end up giving their lives."
Sebastian Junger, an American journalist who worked with Mr Hetherington, told mourners: "Tim devoted his life to documenting the human cost of war, and he has become a part of that cost now."
Mr Hetherington, who lived in New York, had covered conflict zones since the late-1990s.
Best known for his work in Afghanistan, he won the prestigious World Press Photo of the Year Award in 2007.
His time in Afghanistan led to his creation of the 2010 Oscar-nominated documentary Restrepo.