Newspaper review: Government's NHS plan under scrutiny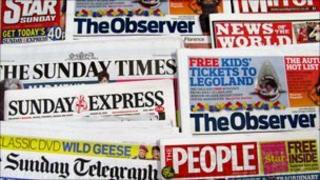 The government's plans for the NHS in England are explored in several papers.
The Observer quotes an adviser to the prime minister as saying the reforms could mean "big opportunities" for the private sector.
It says the comments come on the eve of a speech by David Cameron in which he is expected to try to damp down fears the changes will lead to privatisation.
The Sunday Telegraph predicts a week that will "open up a major dividing line" between the coalition government partners over public services.
'Prepared to act'
The News of the World hails what it calls the PM's "U-turn" over putting the Military Covenant in law.
But an editorial says David Cameron's commitment is a victory for the paper's "Justice for the Brave" campaign and it praises him for being prepared to act.
The Sunday Mirror sees "hypocrisy" and says 16 soldiers who lost limbs have been "unceremoniously kicked out".
And the Independent on Sunday regards the move as an "11th-hour bid" to avert a backbench revolt.
High pay
"Target Gaddafi" is the lead headline for the Sunday Telegraph - paraphrasing the words of the head of the armed forces, General Sir David Richards.
He tells the paper Nato must intensify the military campaign against Libya.
The People and Sunday Express lead with claims that Jennifer Mills-Westley, the British woman beheaded by a man armed with a knife in Tenerife, feared she was being stalked.
The Independent on Sunday devotes its front page to an investigation by the High Pay Commission that shows pay inequality is accelerating in Britain.
A city united?
For the back pages, Manchester's winning football teams are the news.
It's "Madchester" says the Mail on Sunday alongside jubilant scenes after Manchester City won the FA Cup and United a record 19th league title.
Headlines in the Observer and Sunday Telegraph both say Manchester was a "city united" by the teams' success.
But United boss Sir Alex Ferguson had a "dig", the News of the World notes, by saying the Cup is the trophy that "least of all you would want to win".