Newspaper review: Arrest of IMF chief explored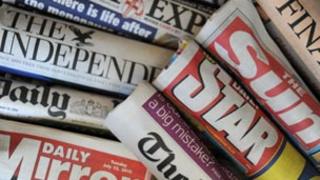 The New York arrest of IMF chief Dominque Strauss-Kahn on sex assault charges is explored in most papers.
The Times reckons the furore will send shockwaves "far beyond the confines of the courtroom" and the Guardian says it will cast a cloud over the IMF role in tackling the eurozone debt crisis.
The Independent says Mr Strauss-Kahn, who denies the claims, is a figure of formidable talents as well as flaws.
The Daily Mirror says he is the world's number one banker.
Victorian pay
Economic pessimism continues elsewhere, with the Daily Mail predicting "a decade of pain" on the High Street.
According to forecasting group, the Ernst and Young Item Club, inflation and subdued pay rises will leave Britons with less cash to spend.
The Financial Times highlights a report from the High Pay Commission.
It claims wage disparity between the UK's top earners and the rest of the working population will soon return to Victorian levels.
Another headache
Coalition plans to give new fathers the right to up to five-and-a-half months of paid leave are widely reported.
In a front page story, the Daily Telegraph says Business Secretary Vince Cable is due to unveil the proposals.
The Sun says several big employers back the idea but the Daily Express is concerned by what it calls a "politically-correct nod to fathers".
"Is this really necessary?" the paper asks "or will it be just another headache for small companies?"
Protracted heatwave
The Independent carries news of a £400 blood test that can show how fast someone is ageing and could estimate how long they have left to live.
The Sun and the Daily Mirror both lead with reports from Tenerife on CCTV footage said to show a man accused of beheading a British woman in a shop trying to buy a knife before the killing.
Finally, the Mirror and Star both predict a protracted heatwave from next weekend while the Express says abnormally mild weather has already resulted in an exceptionally early pollen season.