NSPCC: child abuse fears can be texted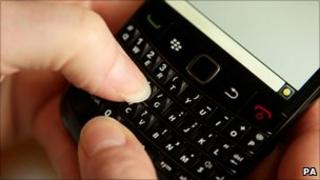 The NSPCC is offering a text service to encourage people to report suspected cases of child abuse.
Research by the children's charity suggests that one-in-five people said they were concerned about a child but 55% did nothing about it unless they reported concerns immediately.
The NSPCC said the free number - 88858 - would be available around the clock.
The charity also announced that psychologist Linda Papadopoulos would be its helpline ambassador.
John Cameron, head of the NSPCC helpline, said the hope was for members of the public to be the "eyes and ears" for social workers.
He said: "We must pick up on the signs of child abuse as early as possible. Social workers cannot be in the community all the time."
Anyone who sends a text to the new number will receive a message back confirming delivery immediately.
An NSPCC counsellor will then text back within three hours, offering advice and asking for more information on the situation.
They will also confirm whether they have passed the information on to the police or social services.
Dr Papadopoulos said: "As a psychologist I know how easily people talk themselves out of doing anything. They may think it's none of their business, or they've made a mistake, or they simply can't decide what to do."
Dr Papadopoulos rejected claims that the service would invite malicious messages, saying that the counsellors know how to "sift through real and fake".
In the NSPCC's poll, almost half of adults (48%) who had been concerned about a child had not acted straight away because they were not sure what to do or who to call.
Some said they were worried about being overheard (12%) or did not want to speak to someone on the phone (10%). Others were afraid of retaliation or were anxious about making a mistake.
The NSPCC will pilot the text service until December of this year.