Newspaper review: Spotlight on IMF chief in court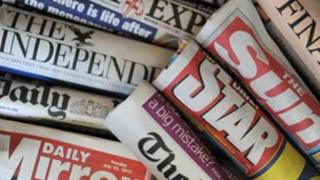 "Down and out in Manhattan" is the Guardian's headline, above a picture of IMF chief Dominique Strauss-Kahn slumped outside a New York courtroom.
He was "haggard and unshaven", says the Daily Telegraph.
The Independent found him looking "tired and strained" as he listened to charges of sexual assault.
Conspiracy theories are "bolstered", says the Daily Mail, by the fact the news was broken by a party activist of French President Nicolas Sarkozy.
Gagging order
The Daily Star and Daily Mirror report on the latest twist in the super-injunction saga.
A judge has extended a super-injunction granted to a top footballer over an affair with model Imogen Thomas.
She tells the Mirror her name has been "trashed", while her former lover "hides behind this gagging order".
The Financial Times is concerned by the footballer's application to search e-mails and text messages of journalists, to see whether they leaked his name.
Career threat
There is no let-up in the pressure on Energy Secretary Chris Huhne at claims he got someone else to take speeding points for him - allegations he denies.
The Daily Telegraph claims it has "unearthed" details that Mr Huhne's now-estranged wife was in London when the points were incurred in Essex.
His career is "on a knife edge", says the Independent, adding he has always liked to "drive in the fast lane".
But, it says, there are those who "still believe he can pull through".
Direct challenge
The Times has a leaked letter from Defence Secretary Liam Fox to Prime Minister David Cameron objecting to the government's overseas aid commitments.
The paper says it represents a "direct challenge" to Mr Cameron's drive to "de-contaminate the Tory brand".
But the paper thinks the sentiments will "play well" with Conservative backbenchers.
It is not long, says the paper, since Dr Fox hinted he had not given up his leadership ambitions.