Colonel Gaddafi's Tripoli facilities 'hit by UK forces'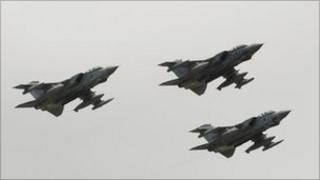 British forces have hit facilities in Tripoli that play a key role in Colonel Muammar Gaddafi's rule in Libya, the Ministry of Defence (MoD) has said.
Intelligence agency buildings and a base of Col Gaddafi's "executive protection force" were attacked.
RAF Tornado jets and Royal Navy cruise missiles fired from the submarine HMS Triumph were used in Monday's attacks.
It is two months since UN Security Council Resolution 1973 authorised air strikes to protect Libyan civilians.
The UN vote followed the violent suppression of protests against Col Gaddafi's regime.
On Monday, Defence Secretary Liam Fox said Nato bombing strikes would not end until Col Gaddafi stopped "slaughtering" his own people.
And, at the weekend, Chief of the Defence Staff General Sir David Richards called for Nato jets to bomb more targets in a bid to avert a stalemate.
Referring to Monday night's attacks, MoD spokesman Major-General John Lorimer said: "The facilities that were struck lay at the heart of the apparatus used by the regime to brutalise the civilian population."
'Instruments of repression'
He said one of the intelligence facilities hit played a "significant role" in the collection of information by Colonel Gaddafi's secret police.
Vehicles from the training base for the executive protection force, which guards Col Gaddafi's inner circle, were directly involved in the suppression of demonstrations in Tripoli on 4 March, he claimed.
Maj Gen Lorimer said the move "clearly demonstrates both Nato's commitment and its ability to reach out and strike directly at Gaddafi's instruments of repression".
He added that the "utmost care" was taken in targeting, with "every measure taken to avoid innocent civilian casualties".
Some 23 RAF aircraft and two Royal Navy warships are committed to Operation Ellamy, the Ministry of Defence's code name for operations in Libya.