Newspaper review: Papers focus on Clarke rape comments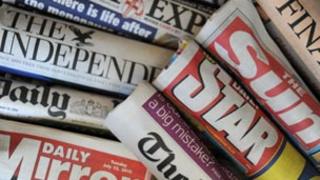 A number of papers lead with Ken Clarke's apparent suggestion that some rapes are more serious than others.
The Daily Telegraph speaks of Mr Clarke being "forced to apologise" for his remarks - by Downing Street.
According to the Telegraph, the government is now on the brink of abandoning plans to halve prison sentences for rapists who plead guilty.
The paper says it is widely expected the justice secretary will lose his job in the next cabinet reshuffle.
Obstacle course
The Sun pictures sex attack victim Gabrielle Browne who confronted Ken Clarke on a radio phone-in when he made his initial comments about rape.
Waiving her right to anonymity, she tells the paper he is a "danger to women" and "must go".
The paper describes the justice secretary as "bungling".
The Independent says Mr Clarke handled yesterday's "obstacle course" badly - but praises him as a reformer that Britain cannot afford to lose.
Social solidarity
The Daily Express leads with figures showing that the number of people from ethnic minorities in England and Wales increased by 40% between 2001 and 2009.
Many have made a valuable contribution but it is making it harder to sustain "social solidarity", the Express says.
The Daily Mail reports that in the last year four times more jobs have gone to migrants than British-born workers.
Across the UK, a record four million jobs are now said to be carried out by people born abroad.
Same subject
The biennial Man Booker International Prize has been awarded to the Pulitzer Prize-winning US novelist Philip Roth.
But now one of the three judges on the Booker panel has made her dissenting view crystal clear.
The Guardian quotes feminist publisher Carmen Callil as complaining that Roth "goes on and on and on about the same subject in every single book".
The Daily Telegraph observes that Roth has long alienated feminists with his focus on explicit male sexuality.