Newspaper review: Papers pore over Obama speech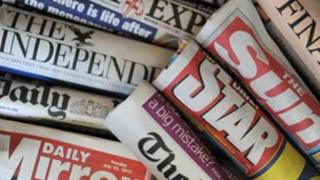 President Obama's Middle East policy speech is pored over by the papers.
The Financial Times says his promise of aid to support reform across the region was a somewhat hesitant and belated attempt to put the US on the right side of history.
The Guardian believes American influence is waning.
"The era of speeches and summits may have passed. It is what happens on the ground that once again has the power to reshape the region," the paper says.
Gagging order
The papers are now free to report that the former head of the Royal Bank of Scotland, Sir Fred Goodwin, was among those granted a super injunction.
And they are in agreement that he should not have been granted the gagging order in the first place.
The allegation that he was having an affair with a colleague prompts the Sun to call him the "bonking banker".
The Daily Mail and the Daily Telegraph both agree that Britain does not need a privacy law.
'Magical days'
The Guardian says the Queen woke on Thursday to find herself cast as an unlikely star in the Irish Republic.
This following almost universal praise for her gestures of reconciliation during the first state visit to Ireland by a British monarch for 100 years.
The paper says Irish eyes are smiling because the Queen's words and bearing have astonished and delighted.
The Queen deserves our heartfelt thanks for "a magical few days" former PM Sir John Major writes in the Times.
Fantastic spring
"Spread the butter a little thicker on your toast this morning," advises the Daily Express.
It says a major study has concluded that dairy products do not increase the chances of having a heart attack.
The Express also publishes a picture of a dazzling field of multi-coloured lupins which it says have bloomed a month earlier than usual.
The National Trust tells the Guardian it has been a fantastic spring for flora and fauna in southern England.