Princess Beatrice wedding hat auction bids pass £80,000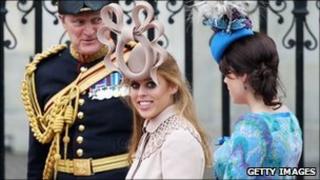 Bids on eBay for Princess Beatrice's royal wedding hat have passed £80,000.
The dramatic creation by Philip Treacy has been likened to a Turkey Twizzler, a toilet seat and a pretzel.
The 22-year-old princess wore it to the wedding of Prince William and the Duchess of Cambridge last month and it has its own Facebook page.
The auction on eBay ends on Sunday at 2030 BST with the proceeds going to charities Unicef and Children in Crisis.
The princess commented on the auction page: "I've been amazed by the amount of attention the hat has attracted.
"It's a wonderful opportunity to raise as much money as possible for two fantastic charities.
"I hope whoever wins the auction has as much fun with the hat as I have," she added.
'Great need'
Australian children's TV performers The Wiggles put in an offer of £17,500 but the leading bid now stands at £80,200.
Anthony Field, of The Wiggles, joked: "We wear some pretty crazy costumes on stage but this hat beats them all - it could bring about an Australian republic all by itself.
"When we heard about the auction we knew we had to bid. We're ambassadors for Unicef and we think it's great that Princess Beatrice has chosen to support children in great need."