Newspaper review: Footballer v Twitter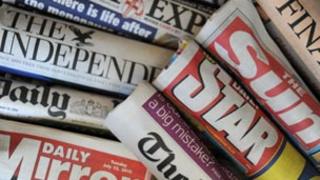 The legal action against Twitter by a footballer who is the subject of a privacy injunction is the lead for the Guardian, the Mail, the Mirror, the Sun and the Star.
The Guardian says web users have responded to the High Court action by repeatedly naming the man on Twitter.
According to the Mirror, cyberspace is buzzing with his name.
The Times reports how the Indian boss of TataGroup compares Britain's work ethic unfavourably with that of India.
Ratan Tata tells the paper that nobody at his two British companies is "willing to go the extra mile, nobody".
Manchester terror cell
According to the Telegraph, files seized from Osama Bin Laden's Pakistani compound have disclosed that he masterminded a cell of suspected terrorists in Manchester.
The Americans passed intelligence to MI5 linking him directly to an alleged plot in 2009, says the paper.
The suspects were arrested, but police were unable to press charges, it adds.
The Financial Times says the Bank of England's chief economist has signalled that families should plan for interest rates to rise gradually over two years.
The FT says it is the first time the Bank has provided guidance to households on interest rates.
Clegg rejection
Several papers report that the White House turned down a request from Nick Clegg for a one-to-one meeting with President Obama during his state visit.
The Independent says Mr Clegg's aides tried to secure a meeting.
But the Times says the White House made clear that he was only entitled to talks with the vice president.
The Telegraph says Mr Obama will meet David Cameron and Labour leader Ed Miliband.
The Times says Japan is noticing an unexpected side-effect of the earthquake and tsunami - a sudden increase in couples getting married.
According to the paper, sales of engagement and wedding rings have soared in the past two months.