Newspaper review: Twitter claims continue to dominate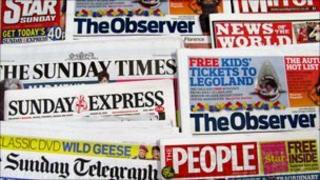 According to the Sunday Mirror, the married footballer who tried to stop his affair becoming public knowledge has become a "global laughing stock".
Although the newspapers cannot name him, he is now being lampooned - it claims - by many people who had never even heard of him.
The Mail on Sunday says he was one of the most talked about subjects on Twitter in several countries.
The People says that the site crashed, overloaded by a global frenzy.
The Mail reports that a journalist could face jail for breaching a privacy injunction by naming another married footballer who had an affair.
Judicial criticism
The News of the World complains of a "Canute-like judiciary" which bans newspapers, radio and television while the stories they try to stop sweep across the internet "like wildfire".
Britain's judicial system is also taken to task by the Sunday Telegraph - which complains that the courts have halted the deportation of a man convicted of terrorism in Tunisia.
The Sunday Times reports that the CIA may have had a mole inside Osama Bin Laden's compound who helped provide details before the US raid in which the Al-Qaeda leader was killed.
It says a pocket guide left behind in the Pakistani compound by US Navy Seals lists details of where Bin Laden and his family lived in the compound.
Barbecue tongs
US President Barack Obama's imminent trip to Britain is widely debated by the press - especially the intricate details of the Downing Street garden barbecue.
The News of the World reports that David Cameron is expected to help cook the burgers, while the Mail says it will be his wife and Michelle Obama.
The Independent says aides are nervously checking weather forecasts.
US preacher Harold Camping's prediction of the end of the world prompted many Twitter jokes, the Observer says.
One Tweet read: "Through Croydon; devastation, pestilence, drawn, emaciated faces of the walking dead. No sign of the Rapture, though."