Water prices could rise in summer with seasonal tariffs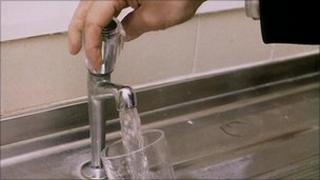 Households could pay more for their water during summer than they do in winter under plans for seasonal tariffs being trialled by some water companies.
Wessex Water found consumption fell by 6% when it charged customers £2.25 for every 1,000 litres last summer, compared with the normal rate of £1.90.
The winter rate was cut to £1.50 so the average customer was no worse off.
But a spokesman for industry body Water UK said any move to introduce seasonal tariffs was "years away".
He said the key message that water companies wanted to get across was that water was not an infinite resource and customers should play their part in minimising unnecessary usage or leaks.
But he said seasonal tariffs would need a higher level of metering - which now stands at about 30-40% - a proper plan and a consultation approved by water industry regulator Ofwat - "none of which was going to happen in a hurry".
'Perception problem'
"I think this is unfortunately slightly in the realms of science-fiction for the moment. We're just so far away from this at the moment.
"Even introducing metering is not yet formal government policy, although we wait to see what the White Paper says later in the year on the subject," he said.
An Environment Agency spokeswoman said the issue of seasonal tariffs was up to Ofwat and the government but the agency had suggested that it was the "sort of idea it had recommended people looked at".
In a report into the trial's interim findings, Wessex Water found that seasonal tariffs appeared to encourage a "step-change in water-conserving behaviour from some customers".
But it said seasonal charging structures suffered from a "perception problem" because customers could "wrongly assume" that it was more about profiteering than conserving supplies.
Water prices are regulated by Owfat.
'Not cost effective'
Southern Water said it had considered seasonal tariffs but there were no plans to introduce them, while Severn Trent Water said it was not planning to introduce seasonal tariffs "at the present time".
John Clare from Anglian Water said seasonal tariffs would "not be a cost effective way of reducing consumption" in its region.
"Most of the water our customers use is for essentials like flushing toilets, washing and cooking. There is only so much people can do to reduce their use on such things, so any reduction is likely to be small compared to the cost of administering such a scheme.
"Much more effective from Anglian Water's point of view are measures to inform customers about the value of water and to help them to reduce water use through metering and the installation of water-saving devices," he said.