Newspaper review: Ryan Giggs' naming examined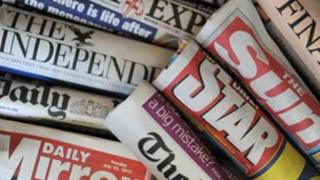 MP John Hemming's decision to name Ryan Giggs as the footballer at the heart of the privacy controversy on Twitter dominates coverage in Tuesday's papers.
"Revealed: Britain's best-known secret" is the Independent's assessment and the Sun's editorial states "freedom wins".
The Daily Mail says MPs sent a defiant message to judges but the Guardian says many were against Mr Hemming's action.
Borrowing from Steven Spielberg's war film, the Daily Mirror headlines its coverage "Naming Private Ryan".
Better or worse?
The papers take differing views of the volcanic ash cloud touching parts of the UK, with the Daily Express warning planes could be grounded for weeks.
The Daily Mail's science editor says there's a chance that the latest eruption could be worse than last time.
The Daily Mirror cautions that safety must be the air industry's watchword when deciding how to tackle the problem.
The Independent, meanwhile, suggests larger ash particles than in last year's eruption should mean less chaos.
35 million reasons
A picture of Barack Obama visiting a pub in the Republic of Ireland features on the front page of the Financial Times and inside all the other papers.
The Sun calls him "Barack O'Barman" and the Guardian, noting the huge number of Americans claiming Irish ancestry, says he had "35m good reasons" to visit.
As his trip moves to London, President Obama and David Cameron tell the Times the US-UK bond has a new direction.
In an article, they rebrand the special relationship an essential relationship.
EU criticism
In other news, a number of papers explore what appear to be growing tensions between Britain and the EU.
The Times says the foreign secretary has ordered ambassadors to fight off what he sees as attempts by the EU's foreign service to usurp them.
The Daily Telegraph says EU foreign affairs chief Lady Ashton also comes in for criticism from the Europe minister.
But the Guardian notes she has faced attacks from France, Austria, the Netherlands, Belgium and Luxembourg.