Ryanair volcanic ash flight claim disputed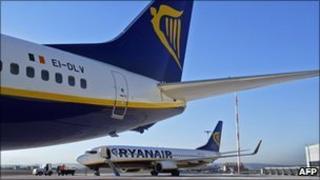 Ryanair's claim that it flew a test flight through a "red zone" of volcanic ash, has been disputed by the Civil Aviation Authority.
Ryanair said it had flown over Scotland and challenged a ruling some flights should be grounded.
It said its 90-minute flight at 41,000ft showed there was "no visible volcanic ash cloud or evidence of ash on the airframe, wings or engines".
However, the CAA said the flight had not entered the so-called red zone.
"The CAA can confirm that at no time did a Ryanair flight enter the notified area of high contamination ash over Scotland this morning," it said.
In response to the CAA statement, Ryanair said it was a case of "bureaucrats" covering themselves.
"We flew through the ash cloud at 41,000 feet for an hour and a half," he told BBC Radio Scotland.
Ryanair has told management at Edinburgh Airport it intends to fly its six scheduled flights out of the airport from 1345 BST.
About 400 stranded passengers spent Monday night at Edinburgh Airport.
Thousands of passengers face UK flight cancellations because of drifting ash from an Icelandic volcanic eruption.
Airports likely to be affected on Tuesday afternoon include Londonderry, Glasgow, Edinburgh, Prestwick, Durham Tees Valley, Newcastle and Carlisle, air traffic services company NATS said.
Earlier, Ryanair claimed the "red zone" over Scottish airspace where ash has been classified "high-density" was invented by the Met Office and the Civil Aviation Authority (CAA).
Chief executive Michael O'Leary said: "We've got written confirmation from the engine and our airframe manufacturers that we're safe to fly even within these red zones.
"And yet yesterday, the combination of bureaucratic incompetence between the Met office, with these nonsensical charts, and the CAA closed the skies over Glasgow."