Selex Galileo jobs cut in Basildon, Luton and Aberporth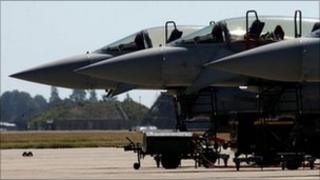 A defence electronics firm has announced plans to cut about 150 jobs in Essex, Bedfordshire and west Wales.
Selex Galileo said the manufacturing, engineering and support posts will go from its sites in Basildon, Luton and Parc Aberporth.
The firm said the job cuts were due to decreasing defence budgets and loss of and delays in major programmes.
Union Amicus said 92 jobs were to go in Basildon, 50 in Luton with the rest thought to be going at Parc Aberporth.
Norman Bone, managing director of Selex Galileo Ltd, said the decision had been a "difficult" one to take.
He added: "However, it was felt necessary to take appropriate action to address some of the difficulties facing our business and to ensure that we maintain an affordable and efficient cost base to remain competitive in the future."
Ian Waddell, national officer for aerospace and shipbuilding with Amicus, said workers were "shocked" by the news which had "come out of the blue".
"We are going to work hard to avoid compulsory redundancies. We will ask the company to extend the consultation period," he said.
The Basildon site works on vehicles' systems, while the Luton site has worked on the Typhoon aircraft.