Councils urged over 'threatened' local roads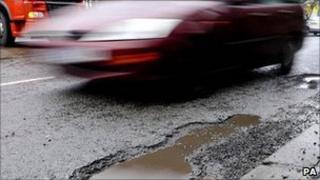 Increasing traffic, harsh winters and less money for maintenance is impacting on the quality of local roads in England, the Audit Commission says.
A report from the public spending watchdog said the cost of fixing roads was 50% higher than in 2001, amid a squeeze in funding.
It wants councils to pool resources better and get more value for money.
Ministers said funding for road maintenance over the next four years would be more than the previous four.
Big motorways and trunk routes make up 2% of the length of England's roads. Local road networks make up the other 98% - 236,000 miles - and are managed and maintained by local authorities.
Traffic increase
Councils say the money they have to spend on them is being squeezed, while severe winters have left many roads broken and potholed, according to the report.
It said there would be a 26% drop in government revenue funding for local authorities and 16% less capital funding via local transport plans over the next three years.
Also, road traffic is expected to increase by more than 30% by 2025 while damage to roads by utility company roadworks is costing councils nearly £50m every year.
Audit Commission chairman Michael O'Higgins said: "Prevention is better than cure, but councils have to consider the safety and insurance risks of damaged surfaces.
"Roads costs are rising while councils' belts are tightening."
But, he said, councils could be more effective at using the resources they did have.
"Sadly we found collaboration between councils to be rare, with too few councils procuring in cost-saving partnerships," he said.
The report also suggested asset management to show when road maintenance will be most effective, new ways of keeping residents informed, and weighing short-term repairs against long-term resilience.
"Pick up any local newspaper and you will see that people care very much about their local roads. Our report aims to help councillors maintain their local network against a backdrop of reduced funding.
"Roads in disrepair can put the brakes on trade, economic prosperity, even emergency services. But a well-maintained network helps people, goods and services to move freely and safely."
Local Transport Minister Norman Baker urged councils to "carefully consider" the report.
"They are best placed to use their local knowledge and experience to decide how to prioritise expenditure across all their services, including their local roads.
"Despite the current severe fiscal restraints, we are providing more funds to councils for road maintenance over the next four years than was provided over the previous four years, more than £3bn in fact."
"We have also allocated an additional £6m to develop a comprehensive and long-term efficiency programme for highways maintenance to help local authorities improve performance. This chimes with the helpful observations in today's Audit Commission report."
Transport Secretary Philip Hammond later told the BBC that while funding over the next four years would be more than the previous four, it would be "going down year on year".