Baby Peter boss Sharon Shoesmith 'does not do blame'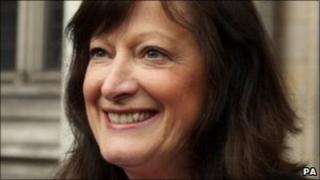 Ex-children's services director Sharon Shoesmith has said she is "not into the blame game" when asked if she bore responsibility for Baby Peter's death.
On Friday, the Court of Appeal ruled that she was sacked unfairly from her job at Haringey Council after the case.
She told the BBC "I don't do blame" and "you cannot stop the death of children".
Baby Peter Connelly, who had been seen 60 times by the authorities, was found dead in 2007 with more than 50 injuries.
Ms Shoesmith learned of her sacking in December 2008 in a live televised press conference by the then Children's Secretary Balls.
She told the Guardian newspaper that Mr Balls had been "staggeringly irresponsible" and his actions had left children's social care in "complete disarray".
'Psyche of the nation'
Speaking to BBC Radio 4's Today programme, she said while she did not "do blame", she accepted responsibility for failings in her department and was sorry for the death of Baby P, subsequently named as Peter Connelly.
She said blame would not produce "anything productive" and it was important to consider the bigger picture.
"As a director of children's services I cannot control what the police do, I cannot control what health does," she said.
"I cannot control the fact when a social worker is referring a child for abuse that she rings up and finds that a case has not been allocated to a police officer for four months. I can't control those matters, this is much more complex than saying you are responsible, let's sack you and the whole psyche of the nation will be at peace."
Addressing speculation that she could be in line for more than £500,000 compensation, Ms Shoesmith said: "I haven't thought anything about compensation, chief in mind is winning this appeal and then supporting four other people who have also been sacked in social care," she said.
In her Guardian interview, she said she was "never in it for the money" and had "wanted the truth to be told".
She also told the paper she was "shocked" when she heard about her sacking on television.
Ms Shoesmith added: "I'm still staggered by how irresponsible the secretary of state was. He almost demonstrated his lack of knowledge and understanding of children's social care.
"This was his department yet he took steps that led it into complete disarray."
Ms Shoesmith spoke of suffering vilification following the Baby Peter tragedy.
"There were things like death threats, there were worries about possibly an arson attack," she said.
"To this day I have got a wire cage screwed to the back of my door lined in foil which will hold a fire if something burning came through."
Months of abuse
Ms Shoesmith's appeal challenged a High Court ruling that cleared Mr Balls, the north London borough of Haringey and watchdog Ofsted of acting unlawfully.
On Friday, three Court of Appeal judges dismissed her appeal against Ofsted. The Department for Education and Haringey plan to appeal to the Supreme Court.
Mr Balls said the Appeal Court decision would be "greeted with surprise across the country" and insisted he would "make the same decisions again".
BBC political correspondent Robin Brant says Prime Minister David Cameron has made it clear that he has a real problem with this decision because he believes elected ministers should be the ones who make key decisions about their departments.
"For the prime minister it is about accountability," he said. "It's about elected ministers deciding if people like Sharon Shoesmith are doing a good or bad job. He doesn't think it should be up to judges."
Seventeen-month-old Baby Peter was found to have suffered fractured ribs and a broken back after months of abuse at home.
His mother, her partner and a lodger were all jailed for causing or allowing his death.