Knife possession custody falls at start of 2011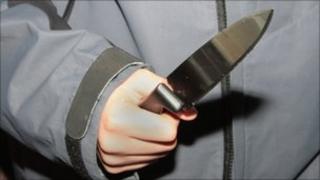 Four out of five criminals sentenced for knife possession this year were not jailed immediately, figures show.
Sentencing guidelines set in 2008 recommend 12 weeks' custody as a starting point for the lowest level of knife possession.
But the figures show that just 19% of those caught with a knife between January and March were jailed - a drop from 23% last year and the year before.
The Ministry of Justice said sentencing was a matter for individual courts.
Instead of a custodial sentence, one-in-three people caught with a knife was given a community sentence .
That proportion - 33% - was up from 31% last year in the same quarter and 30% in 2009.
Of the 5,228 offenders caught in possession of a knife or offensive weapon in the first quarter of the year, just 1,014 were jailed and the proportion receiving longer sentences also fell.
A total of 327, or 32%, were sentenced to more than six months in jail, down from 34% last year.
But the average length of a custodial sentence remained about the same at 207 days - about seven months - compared with 208 days last year.
During the quarter, 21% of all possession offences resulted in a caution - the same percentage as a year before.
Twelve per cent received a suspended sentence.
The remaining cases were dealt with by a fine, an absolute or conditional discharge, or other means.
A Ministry of Justice spokeswoman said: "Sentencing in individual cases is a matter for our independent courts, as only they have the full facts in front of them."