RAF medics who fly to the rescue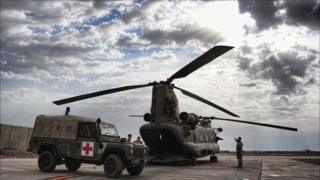 June did not begin well for British troops in Afghanistan. Within three days, two soldiers and a marine were killed in Helmand province. When the call comes for medical help, it's a small team of medics who fly into action.
The Afghan man was screaming in pain. He was struggling to see what was left of his legs, his shoulder was dislocated, and part of his hand missing. A roadside bomb had hit him and two Afghan National Army colleagues.
They were all being treated by the RAF Medical Emergency Response Team (Mert) who had flown from Camp Bastion, the British forces base in Helmand.
Squadron Leader Charlie Thompson, Officer Commanding, describes the scene inside the helicopter: "The soldier involved was obviously in an awful lot of pain. Most soldiers are just so, so quiet when they're in there, they just look at you as if to say 'please get me out of here'. But today, this man was screaming. He was very aware of his injuries."
He was quickly made unconscious with drugs, which makes it easier to do some "pretty nasty and invasive procedures", and to control pain. A flight back to base, a one-minute ride in an ambulance and he was handed over to hospital staff.
And the medics prepare for the next emergency call.
The prognosis for the Afghan soldier was good, but others do not make it. Sqn Ldr Thompson was involved in two of the three deaths in early June but cannot talk to the media about them.
Mert treats wounded British troops, other members of the International Security Assistance Force, members of the Afghan National Security Forces, and wounded civilians and is part of RAF Medical services. Just last month the first memorial to all members who have served with RAF Medical Services since 1918 was unveiled at the National Memorial Arboretum in Staffordshire.
RAF Medical Services has about 1,800 personnel, providing a range of medical services, including a worldwide medical evacuation service.
In Afghanistan there are 30 RAF medics currently serving at Camp Bastion. Roles include a radiographer and an aeromedical evacuation liaison officer to deal with patients who need to be flown back to the UK.
Their busiest year was 2009, when the number of aeromedical evacuations jumped from 800 in 2008 to 1,313. Last year saw 1,225 evacuations, and 436 were carried out up to 15 May this year.
Sqn Ldr Thompson, from Peterborough, and three other medics form one team, alternating with another team of four. They are on call for 24 hours and on standby for 24 hours.
"Clinically it's a very rewarding job. You don't see these type of injuries back in the UK. But on the other hand it's heartbreaking to see such terrible injuries. It makes you appreciate life back home and family, because you see so many young boys injured here," she tells the BBC.
The medics are trained soldiers operating in hostile terrain, and among Sqn Ldr Thompson's life-saving equipment sit a rifle and a pistol.
Another four soldiers fly in the Chinook helicopter with the medics, to provide protection for when the team land and treat the casualties. An Apache helicopter circles above them, constantly monitoring the area for hostile action.
Sqn Ldr Thompson says she has never had to fire her weapons in defence during her five two-month tours, but has treated a casualty under fire.
"To be honest, you're so focused on getting the casualty out of the area, and with the Apache helicopter giving air defence, plus the ground defence, you just have to put all that aside."
Flight Sergeant Kevin Swift, 44, from Chorley, Lancashire, was the first medic to go out on patrol in Afghanistan.
He said he found those foot and vehicle patrols, lasting three or four days in the desert, a bit strange: "As a medic I never thought I would be doing anything like that."
Patrolling through villages meant he dealt with many Afghan civilians, often children who had been suffering from illnesses for a long time. "They see a patrol and often think there is a medic around and they start bringing their children out."
The RAF Medical Service is one of many teams grouped under the Defence Medical Services. The RAF is facing cuts to some equipment and bases, and personnel numbers will drop by 5,000 over five years under the government's strategic defence and security review, but healthcare has been boosted by an extra £20m a year.
The RAF Medical Services describes itself as the recognised lead authority on casualty evacuation by air, having specialised in the field since World War II.
"There are a lot of casualties we take on the Mert that would not have survived many years ago," Flt Sgt Swift says.
"The whole purpose of the Mert is to take the Emergency Department to the patient. With the anaesthetist, the nurse and the two paramedics on board and the kit we've got, it's far superior to what the guys had in WWII and even during the Falklands conflict."
A veteran of the first Gulf War, the Falklands, Bosnia and other places, he says of his injured comrades: "They are giving their lives for their country and for the peace of the world - and we should be able to give them the best when they get injured."