Newspaper review: child sexualisation debated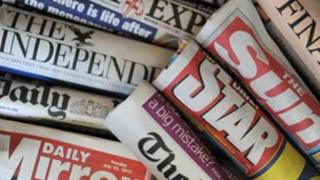 The Guardian and the Daily Mail lead with the government-commissioned report on how to stop children being sexualised too young.
The Guardian notes it will recommend that the media regulator Ofcom should tighten its guidelines on the content of pre-watershed programmes.
But while it warmly welcomes the report, the Daily Mail is dismayed that the measures will be overseen by Ofcom.
It describes the body as a politically correct, toothless regulator.
Bug tips
There is much advice on how to reduce the risk of catching the deadly strain of the E. coli bug which has infected 1,836 people worldwide.
The Guardian notes it has now reached 12 countries.
The Daily Mirror warns its readers to wash their hands and worktops thoroughly, and keep raw meats away from foods such as salad and fruit.
The Daily Telegraph carries a warning that German food should be cleared from our shops.
Allergy allowance
The Daily Express bemoans the fact that the number of people receiving the Disability Living Allowance rose from two to three million between 2000 and 2010.
The Daily Star says nearly 23,000 people are on the benefit because of addictions to drink or drugs.
The Sun says a large number of people receive it for having allergies.
Resolving the issue will make the economy look healthier by a few billion pounds a year, it claims. "That's something not to be sneezed at."
Cup cakes
There's been much discussion of late about computer hackers stealing information and sharing secrets.
Saturday's papers reveal that MI6 has been doing some hacking of its own.
The Daily Star says UK spies foiled a "half-baked" al-Qaeda bomb plot by removing instructions from one of its English language websites.
The Daily Express says that instead of finding out how to make an improvised explosive device, anyone clicking on the link got a recipe for cup-cakes.