UK soldier killed on patrol in Afghanistan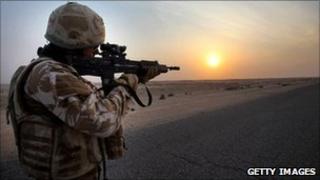 A UK soldier has been killed while on a security patrol in Afghanistan.
The soldier was from The Highlanders, 4th Battalion The Royal Regiment of Scotland and died on Friday.
The soldier came under fire from rifles and rocket propelled grenades in the Lashkar Gah district of Helmand province. Next of kin have been informed.
This latest death brings the number of British military deaths in operations in Afghanistan since 2001 to 369.
Army spokesman Lt Col Tim Purbrick said the soldier was on patrol with the Afghan National Police when his unit was attacked.
"Our thoughts and prayers are with his family and friends," he said.
Meanwhile, four members from the International Security Assistance Force (Isaf) were killed by a bomb in eastern Afghanistan on Saturday.
Their nationalities have not been released but they were not operating in an area where British troops are based.