Newspaper review: Libya attacks dominate Sunday papers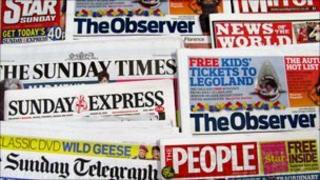 There are many accounts of the first attacks by British Apache helicopters on military targets in Libya.
The Sunday Mirror's correspondent on HMS Ocean describes how they rose like two ghosts, darker even than the black Mediterranean night.
The Mail on Sunday says the two Apaches flew at different heights in order to avoid detection.
The Observer believes their introduction marks a sharp escalation in the Nato campaign.
Net closing
The Sunday Times detects signs that the net is closing in on the Libyan leader Col Gaddafi as his regime crumbles.
The paper has interviewed a general who says thousands of members of the armed forces have defected or deserted, especially over the past two weeks.
The Independent on Sunday reports that more than a hundred commanders have defected in the past few weeks.
But younger officers, who are more fanatically devoted to Colonel Gaddafi, are said to be taking their place.
Delightful Derby
Sports writers use many superlatives to describe the Epsom Derby.
The Mail on Sunday calls it a day of high drama, while the Sunday Telegraph calls it one of the most exciting races in modern times.
There is a sense of astonishment at the way French jockey Mickael Barzalona, 19, rode Pour Moi to victory, leaving the Queen's horse in third place.
The News of the World says he displayed nerves of steel as he came from last to first to snatch the race.
Talent tales
Twelve-year-old Ronan Parke appears on the front pages of the News of the World, the Sunday Mirror and the Daily Star on Sunday.
The singer had been the favourite to win the television show, Britain's Got Talent on Saturday night.
But in a surprise result he finished second to singer Jai McDowall, 24.
The News of the World reports that he was being lined up with a one million pound recording contract before the final of the programme.