William Hague 'inspired' by Libyan rebels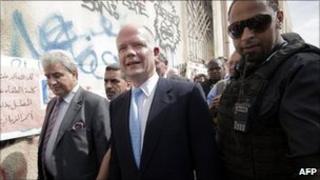 Foreign Secretary William Hague says he has been inspired by his visit to the rebel-held city of Benghazi in Libya.
He told the BBC's Andrew Marr programme he had met "representatives of all areas of Libya, and of many [political] shades" during his visit on Saturday.
Mr Hague said he discussed a political roadmap for the future with the rebels' Transitional National Council.
UK Apache attack helicopters were again in action over Libya on Saturday night.
They used Hellfire missiles to destroy a multiple rocket launch system on the Libyan coast near Brega.
When asked what kind of people the rebels were who he met in Libya, and what their backgrounds were, Mr Hague said they were "genuine".
Regime pressure
He added: "These people at the top of this organisation are genuine believers in democracy and the rule of law. It is quite inspiring... to see their real hope for the future of their country.
"I met a wide variety of representatives on the National Transitional Council. They will be people of many different political views and many different religious views on that council.
"But certainly I think they are genuine in wanting a democratic Libya and in their hopes for a free country. The other encouraging thing, from what we could see, the real people are passionate about that too."
Mr Hague also said that Colonel Gaddafi had failed to crush the rebellion, and the pressure was "now all on the regime".
'Major strike'
Along with the Apache strikes, RAF Tornados also joined other Nato aircraft on Saturday in what the Ministry of Defence called a "major strike" on a large surface-to-air missile depot in the capital Tripoli. On Wednesday, Nato extended its mission in Libya by 90 days.
While in Libya, Mr Hague and International Development Secretary Andrew Mitchell held talks with the TNC's head Mustafa Abdul Jalil, focused on recent progress against Col Gaddafi and UK assistance to help meet the Libyan people's humanitarian needs.
The Gaddafi government "strongly denounced" what it called the "illegal" visit.
Mr Hague said that there needs to "be a plan" for the NTC, and that the one the council currently is forming is at an "embryonic" stage.
"Andrew Mitchell has sent a stabilisation response team, that's leading the international assessment in Benghazi, of what would be needed for Libya to stabilise the situation for the people of Libya, after Gaddafi goes.
"But we are also encouraging the National Transitional Council to put more flesh on their proposed transition, to lay out in more detail this coming week what would happen on the day that Gaddafi went. Who would be running what, how a new government would be formed."
Mine clearance
Mr Hague said the NTC's current plan involves incorporating some members of the current regime with the opposition members - "which would be the right thing to do".
The foreign secretary said there would be "no de-Ba'aathification" in Libya, a reference to the post-Iraq conflict era which saw members of Saddam Hussein's Ba'ath party removed from the new Iraqi political system, including many public sector employees - an act widely regarded as having a destabilising effect on that country.
He went on to say that the NTC "now need to publicise [the plan] more effectively, to be able to convince members of the current regime that that is something that would work. To be able to really have the detailed plan of what happens from day one.
"And they would have an extraordinary opportunity, that would not last long, to get things right for their country. That was part of my message to them."
Earlier, during the ministers' Libya visit, Mr Mitchell announced new UK support for the clearance of mines in Misrata, Benghazi and other affected areas to help ensure the safety of 200,000 people.
The two ministers also met UK and international humanitarian and stabilisation teams for an update on the situation on the ground.
The UK office in Benghazi is now the largest in North Africa after Cairo.