Universities 'complacent on extremism' - Theresa May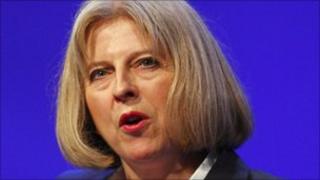 Home Secretary Theresa May has accused universities of "complacency" in tackling Islamist extremism.
It comes ahead of the publication of the government's revised Prevent counter-terrorism strategy on Tuesday.
Mrs May told the Daily Telegraph newspaper she thought there was more universities could do on the issue.
But the vice chancellors' body rejected the criticism, saying universities were working with the police and security services.
Mrs May also said the government would cut funding to any Islamic group that espoused extremist views.
Mrs May told the paper: "I think for too long there's been complacency around universities. I don't think they have been sufficiently willing to recognise what can be happening on their campuses and the radicalisation that can take place.
"I think there is more that universities can do."
The Daily Mail reports that the government's updated strategy has identified 40 English universities where there could be a "particular risk" of radicalisation or recruitment on campus.
It is understood the document also raises concerns over the Federation of Student Islamic Societies and what is seen as an insufficient willingness to tackle extremism.
Mrs May said: "They need to be prepared to stand up and say that organisations that are extreme or support extremism or have extremist speakers should not be part of their grouping."
Prevent was originally launched after the 7 July bombings in 2005 to stop the growth of home-grown terrorism.
Mrs May said that, as a result of the strategy's review of government support, about 20 of the organisations that received funding over the past three years would have their cash withdrawn.
Freedom of speech
However, Nicola Dandridge, the chief executive of the Vice-Chancellors body Universities UK, said there was "no evidence" that universities were "complacent".
Speaking on the BBC's Today Programme, she said a report by her organisation earlier this year "showed the extent to which universities are engaging with the police and security services, working with student unions to try to deal with unlawful external speakers".
She said speakers at student events who broke the law, for example by inciting racial hatred, should be stopped.
But she warned against "easy, simplistic solutions", saying views that do not break the law "need to be expressed" although "we may find their views repulsive, offensive".
Failure to allow open debate compromises freedom of speech and may "drive the whole issue underground", the said.
The Federation of Student Islamic Societies (Fosis) said accusations of complacency were "false and unjustified".
It said Fosis had "consistently taken measured steps to engage with key stakeholders, including members of the government" and invited Mrs May to attend its annual conference later this year.
'Steady increase'
But Quilliam Foundation research and communications director James Brandon said he agreed with Mrs May.
"The problem of extremism at universities has been apparent for some time, I think we've seen a steady increase in extremist incidents on campus," he said.
He said there had been cases of "preachers calling for the death of Muslims who do not pray", as well as "hate incidents directed towards people of other backgrounds and other faiths".
Mr Brandon also pointed to the case of the alleged "underpants bomber", Nigerian Umar Farouk Abdulmutallab, who was a student at University College London and deeply involved with its Islamic Society.
He said there should be "different levels of challenge" for those with extreme views speaking, for example, at Friday prayers with no opportunity for discussion or challenge.
'Irresponsible'
National Union of Students president Aaron Porter said tackling extremism on campus required "careful support and guidance from government, not wild sensationalism that only serves to unfairly demonise Muslim students".
He said it appeared "irresponsible" of Mrs May to "try to shift the blame" onto universities and students when the government had failed to ban the hardline group Hizb ut-Tahrir.
Labour MP Keith Vaz, who chairs the Home Affairs Select Committee, said Mrs May was "right to use the language of being tough on extremism".
But he added it was important to investigate the root causes of radicalisation, and raised concerns about a "list mentality" with the naming of 40 universities considered to have higher risks of campus radicalisation.
"We need to go deeply into the causes of this, and that means we have to go beyond the blame game," he said.
BBC home affairs correspondent Danny Shaw says Prime Minister David Cameron signalled a change in the government's approach to tackling Islamist extremism in a speech he gave in Munich in February.
In it he said there needed to be a "lot less" of the "passive tolerance" of recent years.
Extremist groups, Mr Cameron said, must be stopped from reaching people in publicly funded institutions, such as universities.
Last month, the All-Party parliamentary group on homeland security said it had "grave concerns" students were being radicalised in universities.
However, Universities Minister David Willetts has said it is unclear exactly what role university life has played in individual cases where students have become radicalised.
"It's very hard to pin down, when an individual goes off the rails like that, exactly what has triggered it," he said in February.
A Home Office spokesman said: "The government is currently reviewing the Prevent programme, which isn't working as well as it could.
"We need a strategy that is effective and properly focused. The findings will be published shortly."