Newspaper review: Papers ponder Yemen's future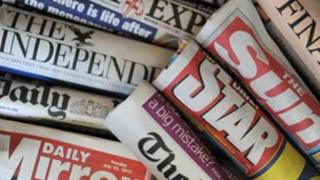 As the Independent says, the uprisings sweeping the Arab world appear to have claimed their third scalp.
It says President Saleh is unlikely to return to Yemen after undergoing medical treatment in Saudi Arabia.
The Guardian describes jubilant scenes in the Yemeni capital, Sanaa.
The Sun fears Yemen could fall into the hands of al-Qaeda, while the Times predicts a power-struggle. Yemen's Arab neighbours are nervous, the paper says, while the West watches with alarm.
Union laws
The Guardian says Vince Cable's planned warning to the unions is "the first explicit acknowledgement" of a desire to legislate to prevent large strikes.
The Daily Mail says it suggests he is "coming round" to the Tory way of thinking on industrial relations.
The Times says ministers have been cautious about confronting the unions, while they push through pension changes.
The Daily Mirror says UK union laws are already among the most restrictive in the industrialised world.
'Soft on crime'
The Sun highlights an admission by Justice Minister Nick Herbert on cutting jail terms.
He says up to 10,000 criminals a year could benefit from a move to halve their jail terms if they plead guilty at the first opportunity.
The Daily Mail accuses the government of going soft on crime.
It blames the cost of prison places and urges David Cameron to find other savings starting with the Department for International Development.
Bittersweet tips
The Independent reports that its racing correspondent has been reflecting ruefully on a moment of bitter-sweet career success.
Chris McGrath successfully predicted all top three winners in Saturday's Epsom Derby.
It earned thousands of pounds for punters who backed his selection.
Unfortunately, he himself had neglected to have a flutter, on odds that would have returned up to £700 for every pound bet.