BBC 'will not reveal cost of royal wedding coverage'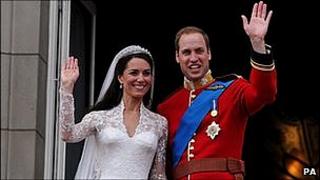 The BBC has refused a request for details of the cost of its royal wedding coverage, according to a campaign group.
Republic's request for information on the number of complaints the BBC received on the day was also refused.
The BBC said the information requested was not covered by the Freedom of Information Act and it was not obliged to release it.
The campaign group said it would appeal to the Information Commissioner.
Under the act, the BBC does not have to disclose information held for purposes of journalism, art or literature.
Public interest
Republic campaign manager Graham Smith said: "There is a very significant public interest in knowing how licence fee-payers' money is spent, particularly when it comes to highly controversial issues such as the monarchy.
"An exemption introduced to protect the independence of the BBC was not intended to shield the corporation from legitimate scrutiny.
"The BBC must be seen to be impartial and must be seen to be making appropriate decisions based on viewer feedback.
"If tens of millions of pounds of licence fee payers' money was spent on the wedding, if thousands of viewers lodged complaints about the BBC's coverage, clearly the licence fee payer has the right to know."
Mr Smith accused the BBC of allowing itself to become a "palace PR machine" during the wedding.
"It's time for the BBC to come clean, admit its mistake and move toward more objective and proportionate coverage of royal events," he added.
In a letter of response to the information request, the BBC outlined its reasons for the refusal.
It said it had chosen not to volunteer information about editorial complaints or the cost of broadcasting the royal wedding to "maintain independence and impartiality".
The BBC said it also wanted to "preserve the integrity of the independent review process for editorial complaints".
In a statement, the corporation said: "A peak of 20 million people (70% audience share) tuned into watch the royal wedding service in Westminster Abbey on the BBC... proving there was a extraordinary level of interest in this national event among our audience.
"We never disclose precise costs of an individual programme.
"However, the BBC is very experienced at covering high-profile national and international events and at getting the best possible value for money for the licence fee-payer.
"Costs for covering the service in Westminster Abbey were shared with other broadcasters."