'Best of the best' Afghanistan blast soldier named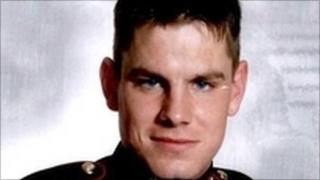 A British soldier killed by a bomb while on a patrol in Afghanistan on Sunday has been named as Rifleman Martin Lamb.
Rifleman Lamb, from 1st Battalion The Rifles, died in the Haji Kareen area of the Nahr-e Saraj (south) district.
The 27-year-old father-of-one, from Gloucester, was the 371st UK military fatality in Afghanistan since 2001.
Commanding officer Lt Col James de Labilliere described him as "one of my very best", the "elite of the elite".
Rifleman Lamb, who lived most of his life in Dursley, near Gloucester, leaves behind a wife, Melissa, and two-year-old daughter Rosie.
Contested checkpoint
He was operating out of a newly-established temporary checkpoint, Zarawar, in the contested area of Alikozai, when he died.
Rifleman Lamb joined the Army in September 2003 after attending Rednock School in Dursley.
He went on to complete tours of Afghanistan in 2005 and Iraq in 2008 and was identified for promotion, serving with distinction in the prestigious Reconnaissance Platoon of 1st Battalion The Rifles, and was due to be promoted to Lance Corporal.
Lt Col James said: "He and his patrol had made some extraordinary gains against a most resilient insurgency. His own personal contribution, courage and sacrifice will be forever remembered as the price paid for this significant success.
"But 'Lamby' will also be remembered for his energy, zeal and commitment - he was a man with many friends and others naturally gravitated to him. He was one of life's real characters, and he was due to be promoted soon."
Major Carl Boswell, officer Commanding A Company, 1 Rifles, said he was "one of the liveliest and determined men I have had the privilege of commanding".
"He was phenomenal; loved by his brother Riflemen, and a role model for those aspiring to be a Rifleman.
"He was kind and caring, and gave others courage during their darkest hours. Outstandingly brave, if there was a fight to be had he was always at the front."
L/Cpl Stuart Howell, of B Company, 1 Rifle, said: "Martin lived most of his life in Dursley, which is a typical West Country town, this reflected in his personality, not just the broad Country accent, Martin would do anything for anyone.
"Martin was the sort of man you could tell anything, I confided a lot in him and he would always have some sort of advice to give; even though he was young he had a lot of life experience. I will always remember him."