Fishermen pensions scheme's untraced members lose out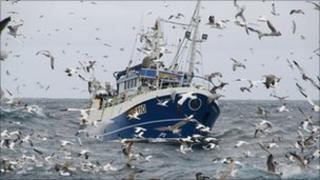 Thousands of fishermen around Britain have lost their pensions because administrators failed to keep records of their full names and addresses.
The pension schemes ran for nearly 20 years from the early 1960s.
A campaign to find the fishermen who contributed is about to end despite finding only half the 12,000 members.
The Hull MP and former Home Secretary Alan Johnson has called it a "scandal" and threatened to call in the pensions regulator.
The schemes are now being wound up with remaining money shared between verified members and their families including a one-off payment averaging £600.
Fishermen in Aberdeen, Fleetwood, Grimsby and Hull all paid one penny a week into the scheme but the initiatives were chaotically run - details were inaccurately recorded, addresses rarely updated and no national insurance numbers were taken.
The scheme has moved between a number of companies following a series of mergers and acquisitions. The money - around £1.8m - now rests in the accounts of insurance group Aviva and is overseen by a company called Capital Cranfield Trustees.
The two companies insist they both inherited badly-run schemes and that they have done their best to find the members, including spending £500,000 of their own money on tracing services.
In 2007, Aviva gave nearly £2.5m to about 4,000 fishermen as part of the campaign.
Despite these efforts to trace the fishermen, former home secretary Alan Johnson still is not happy.
"I'm an ex-trade union leader and I know all about pension schemes - they have trustees," he told Radio 4's You and Yours.
"The fact that they only took their surnames and their initials - not even their full Christian names - no NI number, no addresses, no telephone numbers. There's no excuse at all for such awful maladministration."
Ron Batemen, a former Hull trawlerman, has spent nearly 40 years campaigning for fishermen's compensation in the wake of the industry's collapse.
It was during this fight that the pensions "scandal" came to light.
He said: "I just can't put words to it. I think school children could run a better piggy bank scheme. It's gone from company to company and no one's bothered whether the records were kept properly."
Ken Grantley, now 60 years old, spent his life at sea and signed up to the Hull Fishermen's Pension Scheme at 16.
He says he still has not received a penny.
The pension company involved claims it sent him a cheque years ago, but no one can find either the cheque or the paperwork.
"They can't tell me what address they sent it to. There are no records," Grantley said.
"There's thousands of fishermen who were involved who haven't had their money. Now, some of them are struggling to get by.
"Whether they've got £300 or £3,000, give them what money they've got and help them out now while they're still here."
You can hear Radio 4's You and Yours report into the fishermen's pensions scheme on Wednesday 8 June at 1200BST or afterwards online at the above link.