Circuses face new rules on animal use as ban ruled out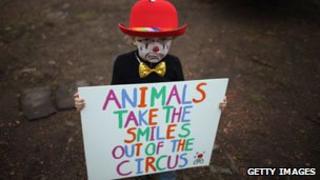 New regulations for circuses who have wild animals could lead to fewer being used to perform, the agriculture minister has said.
Jim Paice again ruled out a government ban but said the cost of a new licensing and inspection regime could lead to fewer performing animals.
The circus industry trade body said more robust regulation could see some circuses return to using animals.
The RSPCA has called for a Parliamentary vote on the ban.
Last month, Environment Secretary Caroline Spelman announced there would be no ban but promised to enforce "high welfare standards".
During a Westminster Hall debate on Wednesday Mr Paice said a ban would leave the government "vulnerable" to legal challenges under the Human Rights Act.
He said there was no strong evidence a ban was needed on welfare grounds and it may be disproportionate because there were "other means of protecting animals other than an outright ban".
"The quickest and most effective way of dramatically improving the welfare of animals in travelling circuses is a system of regulation and licensing," he added.
'Victorian practice'
MPs from all parties called for a ban in the debate, led by Labour's Robert Flello, MP for Stoke-on-Trent South.
"This Victorian practice should be consigned to the past," said Mr Flello.
But Malcolm Clay, secretary of the Association of Circus Proprietors of Great Britain, said he did not believe the new costs would discourage circuses from having performing animals.
"I think he (the agriculture minister) has got to wait and see what circuses are going to be required to do and what the cost will be," Mr Clay said.
"I don't think the costs will be prohibitive.
"Once we have robust regulation which reassures the public we may see some circuses return to using animals.
"It may encourage circuses because they can illustrate that they are abiding by standard regulations and they are subject to proper veterinary regulations by Defra.
"Circuses want to be in a position where they can say 'we are fully compliant with all government requirements'."
Mr Clay said the body had been asking for regulations for 20 years.
'Red herring'
A ban on circus animals introduced in Austria is being challenged under European law.
The UK government has previously argued that it would be unworkable to introduce one, until the outcome of that case was known.
An RSPCA spokesman said: "Hiding behind a challenge to the Austrian government ban and human rights laws is a complete red herring as the European commission have said they are happy with bans on use of wild animals in member states...
"We endorse the move to push for a full debate on the floor of the Houses of Parliament with a vote on whether a ban should implemented."
Will Travers, chief executive of the Born Free Foundation, said it was unlikely new regulations would come into effect before 2013 because circuses would need a "grace period".
"Meanwhile, wild animals are still in circuses, still on the road, still in beast-wagons, still in the ring, still being trained, still performing - welcome to the 21st Century," he added.
Harvey Locke, president of the British Veterinary Association, said: "A licensing scheme will not address these issues and could potentially lead to an increase in the number of wild animals in circuses in the future.
"This is clearly a welfare issue and I would once again urge the government to take action now to prohibit the exploitation of these majestic animals whose existence in the confines of a circus is solely to entertain people."
In 2009, the year for which the latest figures are available, there were an estimated 39 wild animals being used in circuses in the UK, including elephants, tigers, lions, camels, zebras and crocodiles.
There was a public outcry earlier this year when footage emerged of a 59-year-old circus elephant called Anne being beaten with a pitchfork in Northamptonshire.
She has since been taken to Longleat Safari Park in Wiltshire.