Newspaper review: Sentencing U-turn commands attention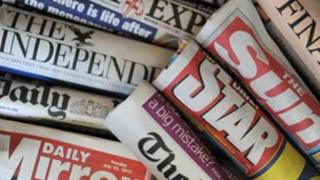 The government's apparent U-turn on cutting jail terms for criminals who enter an early guilty plea commands plenty of coverage in the papers.
Justice Secretary Ken Clarke must be fired after proving himself soft on sentencing, says the Sun.
The Financial Times suggests he will step down voluntarily, half-way through this Parliament.
The Daily Mail insists that he is not a maverick minister and points out that No 10 signed off on his plan.
Collective leadership
Many of the papers publish a blurred CCTV image of a dead patient being dragged along a corridor at Manchester Royal Infirmary.
The Daily Mirror says Peter Thompson had been refused entry to the hospital because he was drunk - and staff had left him to "sleep off the drink".
Europe needs a president directly elected by the people of the EU, Tony Blair tells the Times.
The former PM argues it is essential to have strong collective leadership.
'Hidden tax'
The main story for many of the papers is the growing pressure on police to broaden their investigation into phone-hacking at the News of the World.
The Daily Telegraph reports allegations that the Duchess of Cambridge's bank details were hacked into in 2005 by a private detective called Jonathan Rees.
Energy campaigners tell the Daily Mail hidden tax worth £200 a year is going on average family fuel bills.
They say it is to subsidise wind farms and solar panels.
'Bling wastepaper basket'
The green credentials of the London 2012 Olympic torch are questioned by the Guardian.
The paper says the sponsor, EDF, has failed to meet the deadline to come up with a low-carbon fuel.
The Independent praises its gold-plated aluminium casing and 8,000 laser-cut holes.
It says the beacon was unveiled to a predictable chorus of unfavourable comparisons to "a golden cheese-grater" and a "bling wastepaper basket".