Farmers in Lincolnshire lose out as drought declared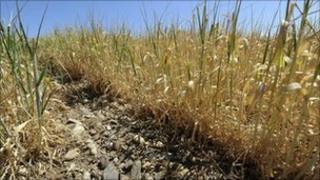 Farmers in Lincolnshire say they could lose hundreds of thousands of pounds due to poor crops after the worst dry spell in more than 20 years.
Official drought status has been declared for the county by the Environment Agency and Department for Environment, Food and rural Affairs.
Irrigation restrictions on taking water from rivers have been put in place.
Steven Francis, head of Fen Peas, said even if it rained now it would have little impact.
River transfers
"What we're finding is that the conditions for harvesting are very good but the crops we are harvesting are not very good at all," he said.
"We've had 60% of the rainfall we normally have since December. We can water some of the crops but it's really gone beyond that now.
"I've been doing this for 20 years and it's the worst I've seen it. We can safely say we'll lose hundreds of thousands of pounds this year."
David Hawley, of the Environment Agency, said: "Irrigating at night is very useful as it uses much less water and you don't get the evaporation losses.
"We are also carrying out some river transfers where millions of gallons of water is taken from the River Trent and transferred to the rivers Witham and Ancholme which supports a lot of farmers."
The Environment Agency said Cambridgeshire, parts of Bedfordshire, Northamptonshire and western Norfolk were also officially in a drought.