Archbishop of Westminster to speak of royal wedding joy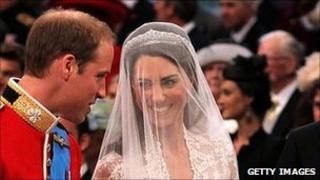 The Archbishop of Westminster is set to tell of his delight at attending the Duke and Duchess of Cambridge's "wonderful" wedding.
The Most Reverend Vincent Nicholls will praise the institution of marriage before 543 married couples at a special mass at Westminster Cathedral.
He will say public support for the couple was due to an "instinctive and profound" understanding of marriage.
The archbishop will say the ceremony was "appreciated by millions".
In his homily he will say: "I had a marvellous seat, close to all that took place. It was a ceremony shared and appreciated by millions around the world."
He will describe the "sound of the joy and support of the people for what was taking place" as the crowds outside Westminster Abbey cheered as the couple were pronounced man and wife.
"Here was a public recognition that with the exchange of these words, something radical had happened: these two lives would never be the same.
"Marriage, as a permanent, exclusive commitment between this man and this woman was welcomed, applauded."
'Crowd in your hearts'
The archbishop will make these comments in front of the couples, who between them have a combined total of 18,048 years of marriage.
The Mass in Thanksgiving for the Sacrament of Marriage will be held at Westminster Cathedral in central London.
Couples celebrating their 10th, 25th, 30th, 40th, 50th, 60th and longer wedding anniversaries this year have been invited to the service to give thanks, renew their vows and pray for their families and all marriages.
After the archbishop's homily, the couples will face each other and state their intentions to continue to love one another, before being solemnly blessed.
He will tell them: "Marriage is of our nature. It is not created by the Church, but blest by her.
"Today we rejoice in your marriages and in your family lives.
"There is no crowd outside to express this joy in loud and unmistakable cheers. But there is a crowd in your hearts of all who share your joy and who support your love with theirs."
The "heartfelt and authentic" prayer written by the Duke and Duchess for their wedding day will then be recited.
"I believe it can speak for you all on this happy occasion," he will say.