Newspaper review: Papers consider Balls document leaks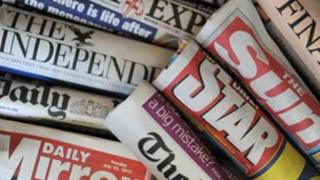 Keeping wicket at a charity cricket match at Lords was never going to be easy for Ed Balls on Friday.
This was on the day the Daily Telegraph published documents it said showed he had actively pressed Tony Blair to step down as prime minister.
"Not such a safe pair of hands," declares the Times.
The paper features several images of the shadow chancellor apparently having little success in clinging on to the ball.
Leak theories
Opinion is divided on the leaks of Ed Balls's private papers.
Polly Toynbee in the Guardian scents a Tory attempt aimed at deflecting attention from poor economic news.
But the Independent says some Tories believe a Labour figure leaked the papers to damage Mr Balls as he was adopting a pivotal role in the party.
The Financial Times says even Tory officials admit the leaks hardly break new ground, but the Daily Mail believes his credibility lies in tatters.
Weird weather
"Another day, another government U-turn," we are told by the Daily Mail.
This time, it says, the government has abandoned plans to bring back weekly rubbish collections.
The Daily Telegraph is bemused that on the day a drought was declared in parts of eastern England, a hailstorm hit shoppers in the centre of Bristol.
And a tourist in Snowdonia tells the paper that with Wimbledon only days away, there they were, standing with the snow blowing all around them.
Entertainment honour
The award of a knighthood to Bruce Forsyth after 72 years in showbusiness is a godsend to the headline writers.
"Knight to see you, to see you knight", says the Daily Mirror, while both the Daily Express and Daily Telegraph opt for "didn't he do well!".
The Mirror says it shows what can happen eventually "if you play your cards right", reflecting the title of one of his television gameshows.
And the Sun says simply: "Arise, Sir Saturday Knight".