Newspaper review: Papers focus on Miliband leadership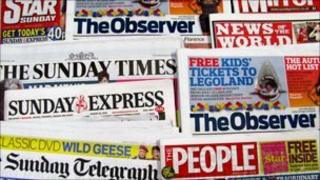 The Independent on Sunday claims on its front page that Labour is in "crisis", with the Miliband brothers at "war".
The paper quotes a friend of David Miliband who says he is waiting for Ed to "fail" as Labour leader and poised to make another bid for the leader.
The Mail on Sunday says some Labour MPs are claiming powerful allies of David are plotting to oust his brother.
But an aide to Ed Miliband tells the The Independent on Sunday relations are "good" and they talk regularly.
Ineffective role
The Observer reports that Ed Miliband is being advised by senior figures in the party to "up his game" to avoid a leadership crisis later in the year.
A survey for the Sunday Times suggests more than half of Labour voters do not know what Ed Miliband stands for.
More than two thirds believe he is an ineffective opposition leader.
Former Labour Home Secretary David Blunkett tells the paper Ed Miliband needs to "build a persona" to give voters a sense of what he can offer.
Best deal
The Sunday Express is reporting that British Gas and four other big energy companies are expected to increase domestic bills by up to 22%.
The paper says British Gas has declined to comment on any potential rise.
The minister, Chris Huhne, has told the Observer only "one in five" people are switching energy supplier to find the best deal.
He wants to see "more switching, more competition and more companies in the market" to help keep bills down.
Wedding pictures
According to the Sunday Telegraph, Lord Patten has signalled he is prepared to see the axing of a BBC digital channel to save the World Service from cuts.
The new BBC Trust chairman tells the paper his love of the World Service made protecting it a "priority".
The BBC Trust has insisted Lord Patten did not suggest BBC3 or BBC4 might be cut to protect the World Service.
And finally, many of the papers have a front page picture of singer Lily Allen getting married in Gloucestershire.