Cows on the line among top delays in May - Network Rail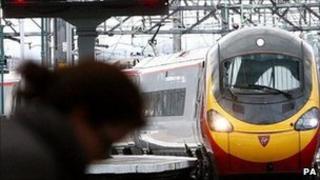 Cows on the line led to 15 train cancellations on Britain's rail network in May, Network Rail has said.
The incident on the West Coast line between Nuneaton and Rugby came fifth in a new listing of top delays from the company behind the rail infrastructure.
Signal failure on the Western route near Reading, which saw 139 cancellations, was top, followed by power failure and theft of cable.
On average, 93.7% of trains ran on time in May, matching the figure for 2010.
This is the first time the list of the top five incidents the company is responsible for in a month has been published, Network Rail said.
Power failure caused by overhead wires resulted in 101 train cancellations on the East coast line between Stoke and Tallington junction, the list showed.
There were a total of 95 cancellations caused by two incidents of cable theft - on the East Coast line near Scunthorpe and on the Anglia route between Chelmsford and Witham.
Above average
The incident involving cows on the line took place on 27 May.
It comes after cows got on to the line between Swindon and Didcot in January, causing delays on the main line to Paddington when one of them was hit by a train.
Among train companies, only the East Coast company (85.9%) and West Coast operator Virgin Trains (89.6%) had punctuality of less than 90% in May.
The best-performing company last month was the London to Tilbury and Southend operator c2c which ran 97.5% of trains on time.
Merseyrail, London Overground, Arriva Trains Wales and First TransPennine Express all had above average punctuality in the month.