Office of Rail Regulation 'frustrated' at rail repairs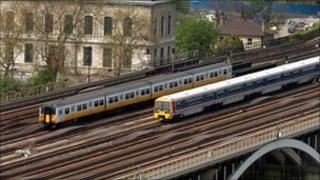 Rail regulators have expressed "frustration" at the slowness of safety improvements to the train network.
The Office of Rail Regulation (ORR) said Network Rail had made good progress in some areas last year but also suffered "setbacks and failures".
It said the company had missed many of its annual targets, including some for delays and punctuality.
Network Rail admitted train performance fell short of expectations and that it was working with ORR to improve.
In its annual report, ORR said Network Rail faced "big challenges ahead" if it was to meet future performance targets and that it needed to submit plans to show how it would better cope with winter weather conditions.
ORR chief executive Bill Emery said: "Network Rail made good progress in some important areas last year - delivering improvements to many railway stations and lines across the country.
"However, we have also seen performance setbacks and failures which mean that Network Rail faces big challenges if it is to meet the increasingly demanding targets it is funded to achieve."
'Tough winter weather'
He said Network Rail missed the majority of its operational objectives for areas including punctuality and that it needed to improve its safety culture.
"With targets getting increasingly tough year-on-year, ORR is pressing Network Rail not to fall off the pace of all its regulatory commitments - and to act now," Mr Emery added.
Network Rail has a savings target of £1bn a year by 2019.
Paul Plummer, Network Rail's group strategy director, said: "Train performance in the last year fell short of expectations - largely, but not solely - owing to the tough winter weather.
"Network Rail can and must do better."
He added that the company had to demonstrate to ORR that it was making progress with its efficiency savings and plans for long-term improvement.
Bob Crow, general secretary of the RMT transport union, said: "If you are serious about improving safety and operational standards at Network Rail then the last thing you need is cuts to safety-critical jobs and the fragmentation of a new round of privatisation.
"With this ORR report homing in on safety it is a warning shot to all those demanding a further round of cuts and privatisation at Network Rail that would drag us back to the days of [Network Rail predecessor company] Railtrack and raise again the spectre of the Hatfield and Potters Bar [accidents] over Britain's railways."