Newspaper review: Greek debt crisis concerns papers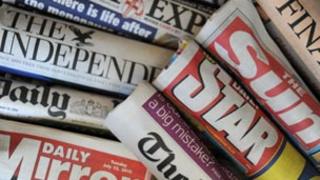 The debt crisis affecting Greece provides a focus for many front pages.
The Daily Telegraph leads with a call by London mayor Boris Johnson, one of its columnists, for Britain to refuse to contribute to a second bail-out.
He says Greece should be allowed to default and leave the eurozone.
Leo McKinstry in the Daily Express agrees with the assessment. He reckons Greece is going to default and the EU should force it to return to its own currency - or in his words to "remake a drachma out of this crisis".
The Guardian's Aditya Chakrabortty reports from the scene of protests in Syntagma Square in Athens.
The site has "become the new front-line of the battle against European austerity", he notes.
Police offenders
London's mayor also features in the Sun. In a column Boris Johnson has a pop at Justice Secretary Ken Clarke over plans for shorter jail sentences.
Staying with crime, the Sun goes on to report that dozens of police officers convicted of serious offences are being allowed to keep their jobs.
The paper says police bosses have been forced the reveal the numbers under a Freedom of Information request.
Meanwhile, the Times says the Child Exploitation and Online Protection Centre has prepared a "damning" report describing child sex grooming as a hidden issue. It accuses officials of failing to carry out proper inquiries.
Pension talks
With the government's Pensions Bill being debated in the Commons, the Daily Mail says it has been told by sources that a climbdown on changes to the state pension age is "inevitable".
The Daily Express says ministers are considering compensation for up to 500,000 woman affected by the plan.
The Independent looks at the continuing row between ministers and unions over public sector pensions.
It suggests that talks between the parties are on the brink of collapse.
Regulations 'rift'
The accidental bombing of civilian homes in Tripoli over the weekend by Nato is described by the Daily Telegraph as "deeply regrettable".
But the Times says it must not deflect from a "just and necessary war". Nato should hold its nerve as there is every reason to believe Colonel Gaddafi's regime is on the brink of imploding, it adds.
The Daily Mirror leads with an appeal by the father of Owen Wightman, the six-year-old boy who was killed by a hit-and-run driver in Wakefield.
Finally, the Guardian lead looks at an apparent Tory-Lib Dem rift over plans to scrap environmental regulations.
It says the efforts by energy secretary Chris Huhne to resist the move is part of a Lib Dem strategy to fight their corner "more aggressively" in the wake of the party's successful opposition to changes in the NHS in England.