Newspaper review: Papers firm on Greece economy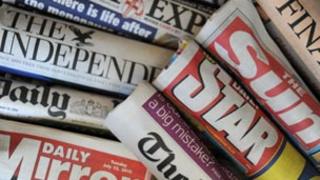 As the Greek economy teeters on the brink, the refrain from the Times and the Sun is: "Not a penny more."
Greece, says the Sun, has "no hope" of paying current debts "let alone future ones".
The Times is reassured that David Cameron says he will fight any attempt to use British taxpayers' money in a European bailout of Greece.
There is disbelief at the Financial Times that some are arguing for "even deeper political integration".
Marriage cost
For couples planning a wedding there is gloomy reading in the Daily Telegraph.
It reports that the cost of marrying in a local parish church is set to rise by almost 50%.
There is no let-up in sight to the rain, says the Daily Express, which means that "mud tops the Glastonbury bill yet again".
Organisers believe this year could rival the "Year of the Mud" in 1997 when "emergency slurry tankers had to be brought in to clear up the mess".
'Sweat again'
The Guardian asks if it is "really so foolish" to hope for a different ending to the "old, old story" of British tennis at Wimbledon.
This after the the triumph of golfer Rory McIlroy at the US Open.
The front-page picture for the Daily Mail is Andy Murray's mother and girlfriend grimacing and clutching their heads as he loses the first set to an unheralded Spanish player.
"Yes," says the Mail, "Andy's making us sweat again".
Species threat
There is a stark warning on the front page of the Independent of the fate of the world's oceans.
Under the headline, "Oceans on brink of catastrophe," the paper reports the findings of a major study by marine scientists.
Climate change, pollution and over-fishing are combining, says the paper, to threaten a loss of species "unprecedented in human history".
Greater even than the mass extinction of the dinosaurs, it states.