Newspaper review: Papers analyse Clegg's banks idea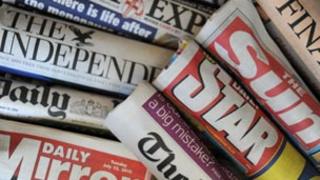 Nick Clegg's plan to give every British voter shares in partially state-owned banks RBS and Lloyds leads the Daily Telegraph, the Times and the Financial Times.
According to the Telegraph, the deputy prime minister wants to reward the public for helping to bail out the City during the banking crisis.
David Cameron is said to have agreed the idea should be discussed.
But the paper says it is unclear how the Treasury will react, with Chancellor George Osborne thought to favour pre-election tax cuts.
Logistical nightmare
The FT describes Nick Clegg's "people's banking system" initiative as a bid to revive his "battered image".
But it warns the scheme could be a logistical nightmare and cost many millions of pounds to implement.
However, the Times reckons the idea looks a sure-fire a winner for him.
Either George Osborne agrees and Mr Clegg gets a big chunk of the political credit - or he resists and Mr Clegg can paint himself as the people's champion against the financial establishment.
Democratic reform
There is much focus on the release from prison of Chinese dissident Ai Weiwei.
The Independent says Beijing is trying to muzzle the artist after his repeated calls for democratic reform.
The Daily Mirror reports that one of three people jailed over the killing of toddler Peter Connolly - Baby P - is to be released in six weeks' time.
It says Jason Owen, sentenced to six years in 2007, wants a new identity and plastic surgery so he will not be recognised and can start a new life.
Sunny spot
The Guardian examines that age-old debate about the pros and cons of town and country after research in Germany.
The study suggests rural folk are much less likely to suffer from stress and mental health problems - because their brains are wired in different ways.
Meanwhile, the Daily Telegraph espouses the merits of Bognor Regis.
Figures from the Met Office for the past 30 years show West Sussex is officially the sunniest county in the UK with 1,900 hours of sunshine a year.