Funeral for Gloucestershire soldier Martin Lamb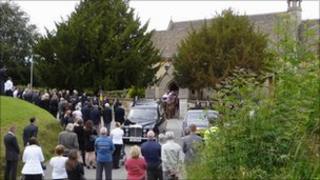 A military funeral for a Gloucestershire soldier killed in Afghanistan has taken place.
Rifleman Martin Lamb, of 1st Battalion The Rifles, died in a bomb blast in Helmand Province earlier this month.
The 27-year-old, who grew up in Dursley, leaves a wife Melissa and two-year-old daughter Rosie.
About 400 people attended the service which took place at St Bartholomew's Church, near Dursley, and was broadcast to mourners outside.
Gen Sir Nick Parker, Commander-in-Chief Land Forces, Colonel Commandant The Rifles, presented Mrs Lamb with the Rifles' wreath, a Union flag, Rfn Lamb's waist belt, medals and his forage cap.
Rfn Lamb, who had also served in Iraq in 2008, had been deployed to Afghanistan in April and was based in the Nahr-e-Saraj district of Helmand Province.
His commanding officer, Lt Col James de la Billiere, described him as "one of my very best" and "talented, capable and naturally gifted as a most professional soldier".