Newspaper review: Levi Bellfield murder trial debated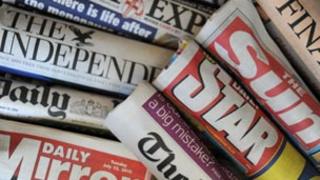 The trial of Levi Bellfield for the murder of Milly Dowler is widely discussed in the newspapers.
The Daily Telegraph is disturbed by the "appalling ordeal" to which the murdered teenager's family were subjected in court.
So is the Times, which describes the questioning of Milly's father and mother by the lawyers for Bellfield as an "assault" which went "on and on."
The Sun sums up what they had to endure as "torture"..
Greek debate
The prime minister is praised for his determination that Britain should not contribute to any further bail-out of Greece by the European Union.
"Miracles will never cease," exclaims the Sun. "David Cameron has stood up to Brussels." The Express judges that he "did well."
As does the Independent, but it says Mr Cameron is guilty of "a deception".
This is because Britain will contribute to a bail-out - as a member of the IMF, if not as a member of the EU.
With a number of inquiries now in progress into computer hacking, some papers probe the world of those who carry out such acts.
The Independent calls it a "shadowy underworld" of "the geeks."
This often turns out to be the darkened bedroom of an adolescent boy "using skills most of us could never acquire".
Festival fashion
According to the Guardian, hackers also enjoy the publicity, and revel in the "playground warfare" of taking down the websites of global corporations.
The Telegraph puts the headline "good old Glastonbury" over a leading article, proving that the festival has become a British institution.
The paper also offers tips for the older festival goer.
And it comments that "the tenacity of the Sixties generation who have survived into the new millennium is remarkable".
The Daily Star and the Sun have pictures of Wayne and Coleen Rooney in their designer wellington boots.