Plan to close 2012 Olympic sailing view park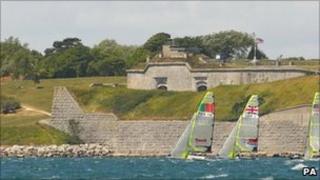 The organisers of the London 2012 Olympic Games have faced criticism over a plan to fence off a public park - preventing people from watching part of a sailing event.
The London 2012 Organising Committee (Locog) wants planning permission to fence off Nothe Gardens in Weymouth, Dorset. It would charge for tickets.
Locog claims this will aid "safety and crowd-control".
But that was branded "nonsense" by local councillor John Burtwistle.
Public space
The park will have views of the ceremonial medal run during the Olympics.
If approved, the plan would close off 40,000 square metres of public space.
Councillor Burtwistle says people will be forced to pay £55 to watch the event from the park.
He said: "When the award of the Olympics to London was first made the councils involved down here said they would do everything in their power to promote the games.
"That seems to have been interpreted as allowing Locog and the Olympic Delivery Authority to do what they like.
"The bottom line is that they are trying to make Olympic sailing a pay-per-view event in Weymouth."
A Locog spokeswoman said: "Nothe Gardens has been selected as a ticketed spectator viewing area due to its view of the field of play.
"Use of the location is subject to planning consent and final operational details are subject to change.
"Ticketing will provide a managed spectator area, preventing risk and creating a safe, secure environment for viewing."
She added: "There are other non ticketed and non managed vantage points within the Weymouth and Portland area from which spectators will be able to see action from the competition."
Sailing is traditionally one of Britain's strongest events, with Ben Ainslie among the medal hopefuls.
He won gold in the last two Olympic Games in the Finn class and a gold and silver in the Laser class in the 1996 and 2000 Games.